In the simplest terms, a light-emitting diode (LED) is a semiconductor device that emits light when an electric current is passed through it. Light is produced when the particles that carry the current (known as electrons and holes) combine together within the semiconductor material. Since light is generated within the solid semiconductor material, LEDs are described as solid-state devices. The term solid-state lighting, which also encompasses organic LEDs (OLEDs), distinguishes this lighting technology from other sources that use heated filaments (incandescent and tungsten halogen lamps) or gas discharge (fluorescent lamps).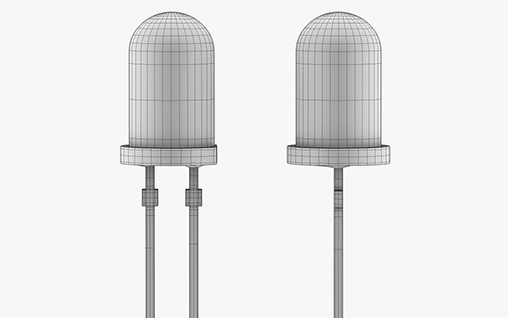 LED (Light Emitting Diodes) lights are the latest and most fascinating technological advancement in the lighting industry. LEDs are small, solid light bulbs that are powerful, energy-efficient, and long lasting. LEDs operate in different ways than traditional incandescent bulbs. This makes LEDs far more durable than traditional incandescent light bulbs. LED technology also provides many additional advantages over incandescent, fluorescents, and compact fluorescent lamps and lighting devices. This includes an exceptionally longer lifespan (60,000 hours), significantly lower energy consumption (90% more efficient), reduced maintenance costs, and higher safety.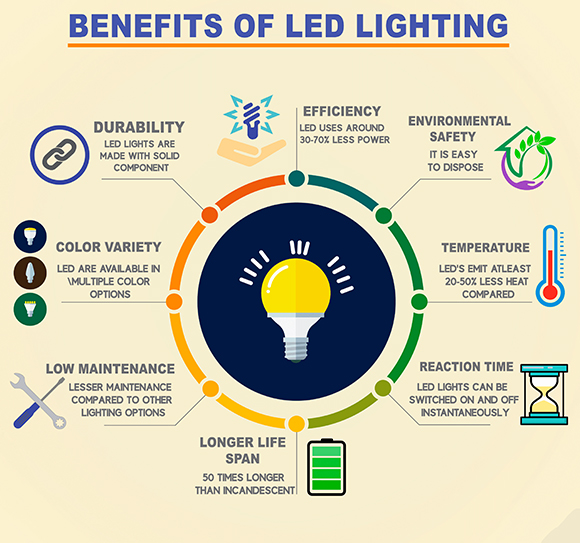 You certainly hear and read a lot about the benefits associated with the energy efficiency of LED light emitting diodes versus traditional lighting. When you compare them to other energy-saving illumination methods that are currently available, you will find that LED lamps are definitely the smartest and most power-saving solution for illumination. The top 8 benefits of using LED lights over their less efficient alternatives can be read below.
Efficiency
LEDs are packed powerfully with sufficient energy and use up to 90% less power than incandescent light bulbs.
Longevity
LEDs have a lifespan of up to 60,000 hours as opposed to 1,500 hours typical of incandescent bulbs.
Sturdiness
LEDs are solid express lighting devices that utilize semiconductor material rather than a filament or neon gas.
Safety
Superior safety may be the most significant benefit of LEDs. LED lamps generate almost no warmth therefore they are cool to the touch and can be left on for hours without incident or consequence if touched, no glass, no UV and IR, no mercury and so on.
Environment
LEDs are made of non-toxic materials, unlike neon lighting that use mercury that may pose a danger to the environment. LED is recyclable and also considered "green", or earth-friendly.
Color
LED lighting are offered in a variety of base colors, such as red, blue, and amber. Due to the fact that traditional incandescent bulbs use filters to produce colors, they are extremely bad. LEDs can be mixed together to produce large numbers of color options.
Long-term
LEDs are poised to replace traditional incandescent lights. LEDs are rapidly, without a doubt, becoming the preferred lighting solution of both homes and offices. long-lasting life up to 50,00 hours.
Uses
LEDs are currently used for a wide variety of different applications, such as in residential lighting, the military, as well as the architectural, automotive, transmissions, electronic instrumentation, the entertainment and gaming, the military, and the traffic and transportation industry. Since LEDs are focused lights, they are great at performing some specific lighting tasks, such as desk lamps, reading lights, night lights, security signals, spotlights, accent lamps, and lighting for signs.
LEDs create light by electroluminescence in a semiconductor material. Electroluminescence is the phenomenon of a material emitting light when electric current or an electric field is passed through it - this happens when electrons are sent through the material and fill electron holes. An electron hole exists where an atom lacks electrons (negatively charged) and therefore has a positive charge. Semiconductor materials like germanium or silicon can be "doped" to create and control the number of electron holes. Doping is the adding of other elements to the semiconductor material to change its properties. By doping a semiconductor you can make two separate types of semiconductors in the same crystal. The boundary between the two types is called a p-n junction. The junction only allows current to pass through it one way, this is why they are used as diodes. LEDs are made using p-n junctions. As electrons pass through one crystal to the other they fill electron holes. They emit photons (light).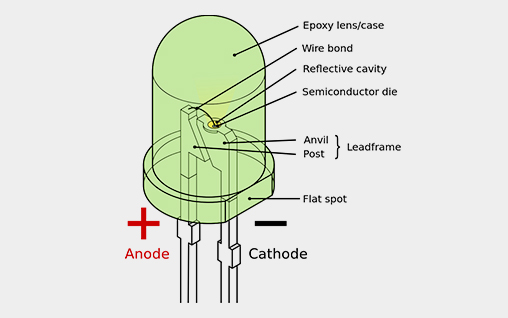 The P-N junction is the basis of the functioning of the LED. The LED has an anode and a cathode separated by a crystal of semiconductor material. Addition of impurities to the semiconductor material produces P-N junctions within the chip. The entire assembly is within a plastic cover that can also double up as a lens to guide the light emitted by the LED.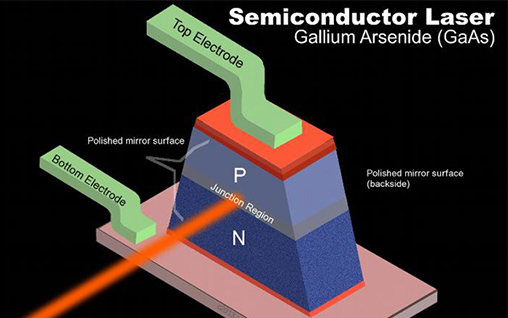 Phosphors are used to help filter the light output of the LED. They create a more pure "harsh" color. Engineers had to figure out how to control the angle the light escapes the semiconductor, this "light cone" is very narrow. They figured out how to make light refract or bounce off all surfaces of the semiconductor crystal to intensify the light output. This is why LED displays traditionally have been best viewed from one angle.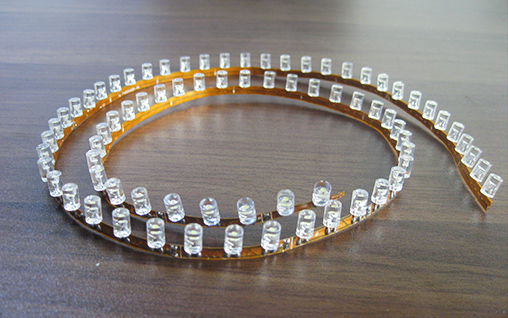 LED light (our corn product LED flexible strips, neon flex) can be used for wide ranges, such as Architectural, Office, Retail, Hotel, Home, Hospital, Heritage, Landscape and so on, even we can say where is the corner, where is the LED strip light.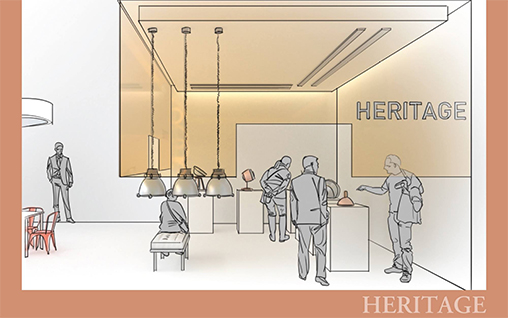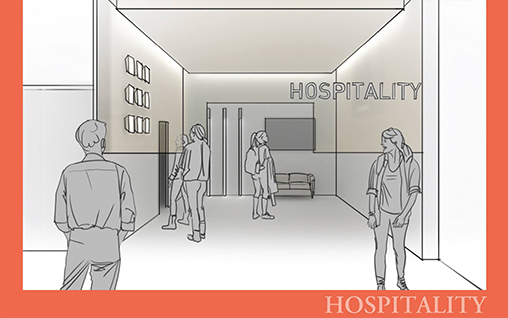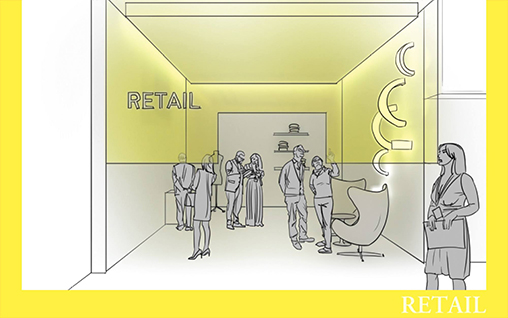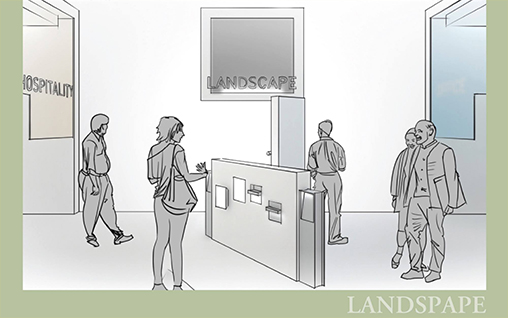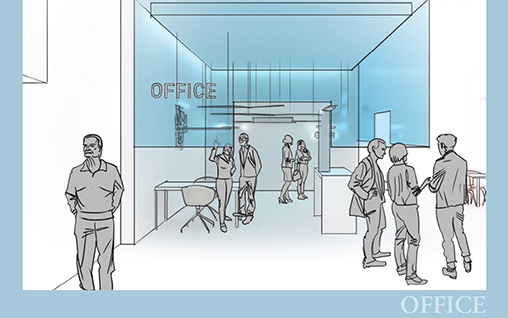 FINELED offer color temperature is 1800K, 2200K, 2600K, 3000K, 4000K and 6000K as standard white CCT's and Red, Green, Blue, Yellow, Pink, Yellow, Ice blue, Golden yellow as a standard single color. Additionally, Dynamic color adjustable color from 2700-6000K, we also offer color-changing RGB, RGBW, RGBWW, RGBA and so on.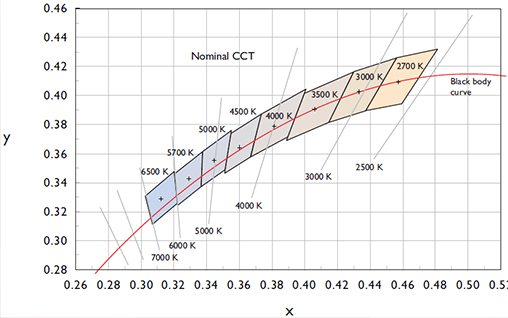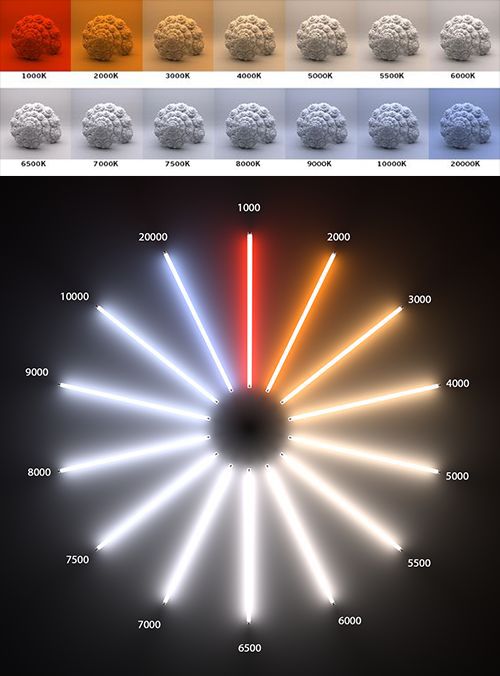 FINELED offers non-waterproof IP20, IP65 silicon coating, P65 Nano coating, IP67 silicon tube, IP67 shrink tube, IP68 silicon tube pulsing silicone-filled, IP68 full extrusion, etc.
You can ask us which environment you want to apply and a reasoable waterproof LED strip will be recommended by our professional sales.
More types of waterproof LED strips, pls view http://www.fine-led.com/index.php?s=/sys/list/110.html.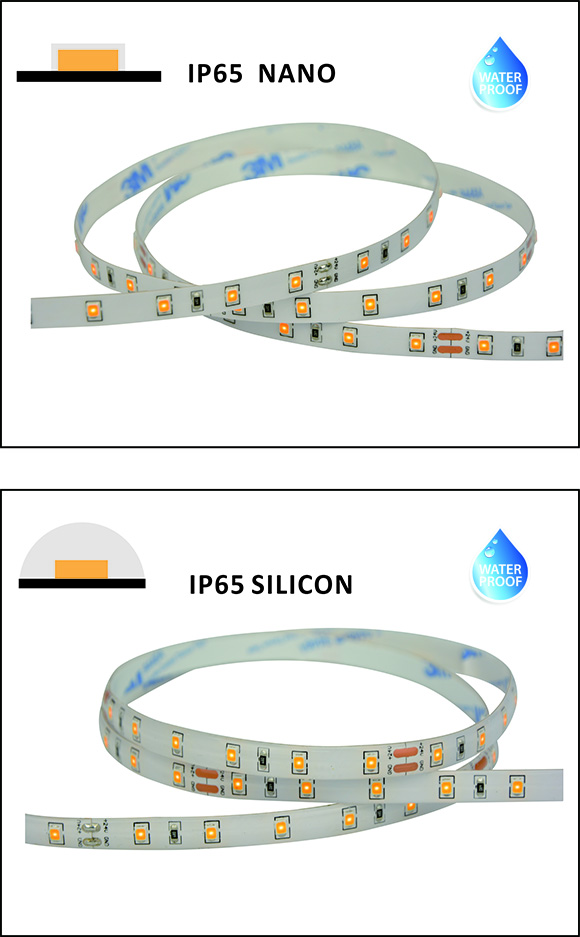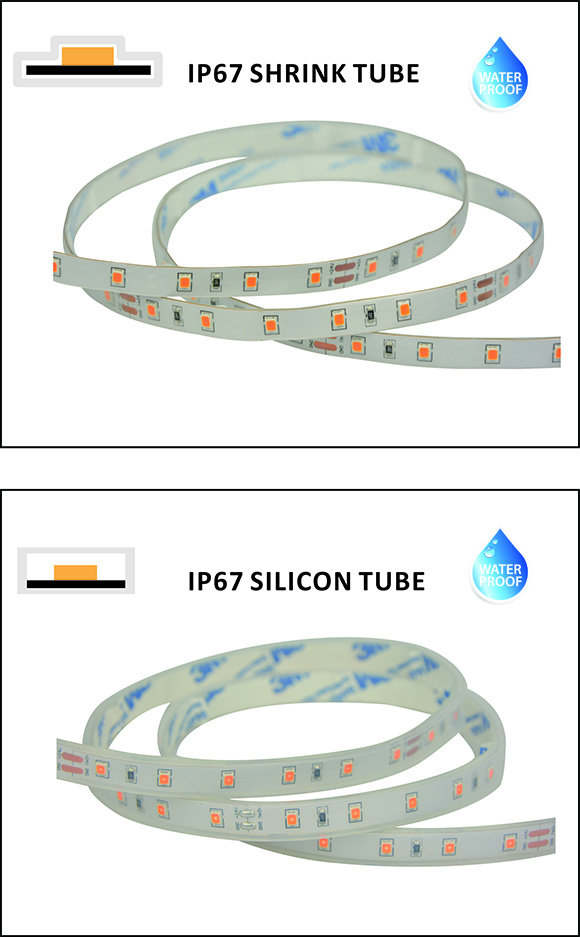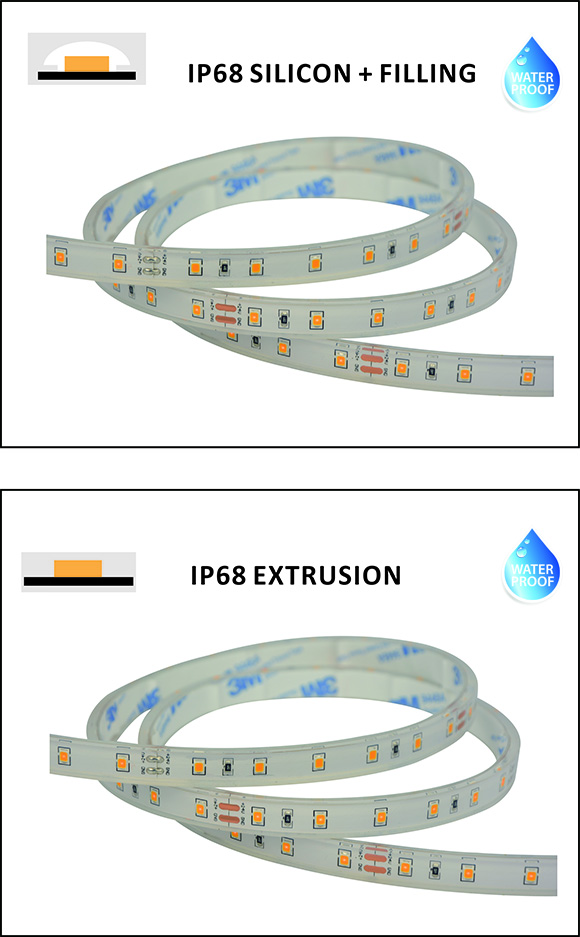 FINELED always makes the inspect very strictly to enusre the same bin color temperature for every batch of customer's order, We control it from the coming raw-materials by Spectroscopic machines and microscope.
In the mean while, we will use a special frosted acrylic board to double check the color temperature by our engineers, it is a twofold technical guarantee.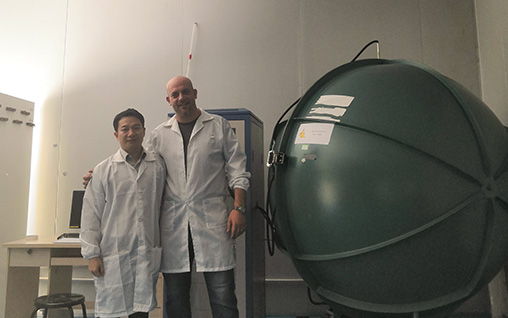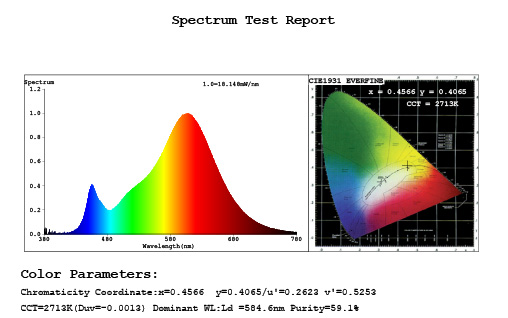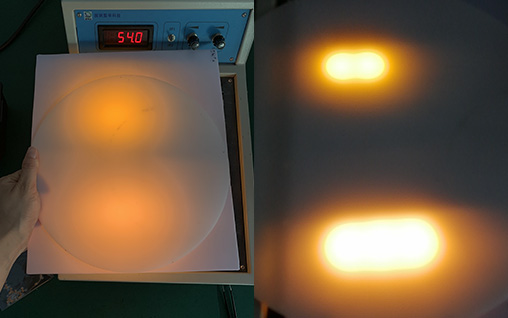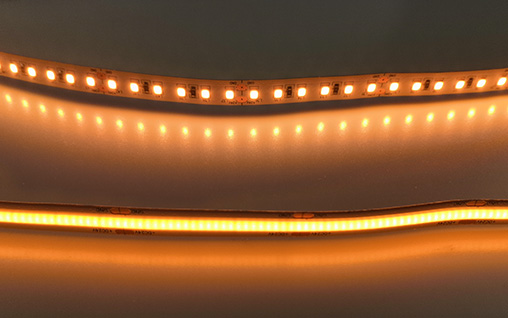 The LEDs used on our LED strips are from Epistar (1966) made in Taiwan, who is a very professional brand manufacturer that has a long lifetime 50000 hours as expected.
A part of LEDs used on our LED strips are from Samsung and Soeul, like 3535, 3030, 5630.
Many of the cheaper LED strips use LEDs which from the outside look identical to the Epistar LEDs but they are cheap Chinese copies with poor internal materials which give rise to a short lifespan. The LEDs on these cheap strips are usually mounted to a very thin circuit board with copper tracks that do not adequately dissipate the heat away from the LEDs further shortening the lifetime of the product.
Most of these LED strips are designed for short term use such as festivals and holidays. The cheap Chinese The LED strip can also have LEDs which are poorly graded for color consistency so the color along the length of the same strip can look very uneven, for example some LEDs may appear a different white color to others which can look blue or warm white in color, or LED damaged, or light attenuation, etc...
For long term use and professional installation, our LED strips are the much wider choice http://www.fine-led.com/index.php?s=/sys/list/12.html.
High effciency LED strips can reaches 140-150lm per watt, the lower output power, the higher lumensoutput, save the electrical billing.
64 LEDs = 6.4W = 960lm
128 LEDs = 12.8W =1920lm
22.4LEDS = 22.4W = 3248lm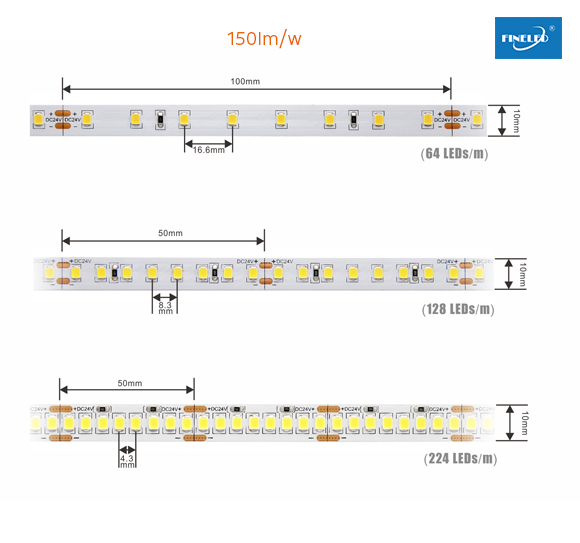 We have the CE RoHs cerficate for European clients and also UL/CUL for the American & Canada clients. UL listing number : E487406
SDCM is an acronym which stands for Standard Deviation Colour Matching. SDCM has the same meaning as a "MacAdam ellipse". it determines the light color of LED lights in similar color temperature.
Peoples kept saying the lower step McAdam, the better color consistency matching.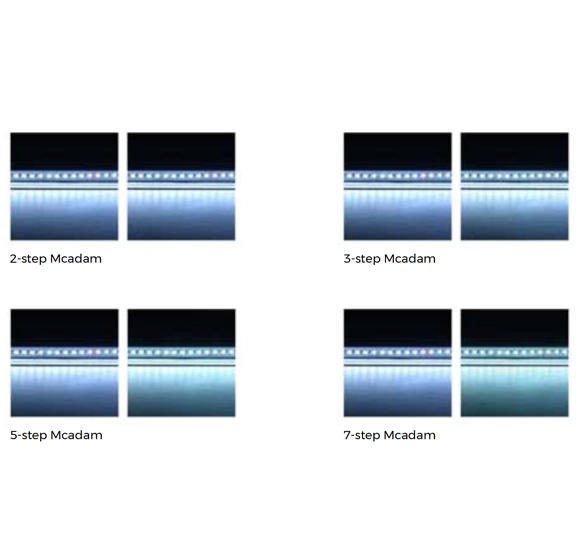 CRI (color rendering index) is a measure of how accurately a light source illuminates objects' true colors, High-CRI LED lighting is a light-emitting diode (LED) lighting source that offers a high color rendering index (CRI). CRI is a quantitative measure of a light's ability to reproduce the colors of objects faithfully in comparison with an ideal or natural light source.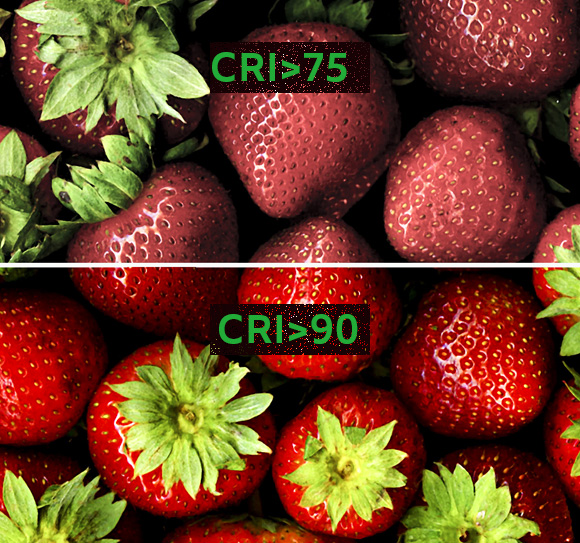 FINELED use at least Ra80 led chips to do our led strip lights. When we test by the integrating sphere machine, it usually shows Ra85+ for most of our led chips. We also use many Ra90 and Ra95 led chips for special projects. We can offer the test report for each batch of our led strip light.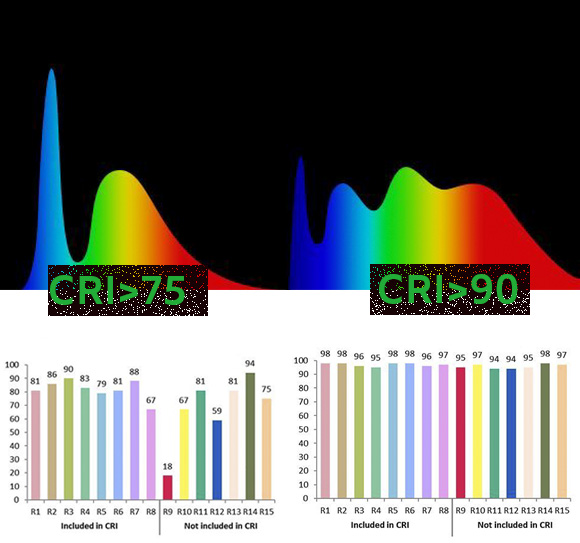 With our practical action to produce the highest quality LED strip by the best raw materials and deliver to customers, FINELED attaches great importance to selecting the raw materials, know well the quality control by IQC, IPQC, FQC/OQC, more production process pls visit factory videos at http://www.fine-led.com/index.php?s=/sys/list/31.html.
PCB: we normally use 2Oz to 4Oz for better heat dissipation and set reasonable power output, the basic life of a LED strip is 50000 hours, equal to six years of continuous use, the heat dissipation arrangement is the important loop.
LED: there are so many quality levels of SMD packing suppliers in domestic, the different costs can be 50% discrepancy, visible difference located in internal wiring and gel. golden wiring Vs Metal wiring, low lumen output Vs high lumen output, etc...FINELED use 99.99 golding wiring and brand gel.
Adhesive tape in the backing: there are so many fake products instead of the original 3M adhesive tape.
Production process and quality control: Our LED strip has been implementing a compact and strict production process from the raw materials to the finished products promises to do a warranty of 5 years of continuous works.
Color Consistency: 99.99% same
Bin: The same bin number for every order
CRI: >85 basically, >90 and >95 Ra for option
SDCM: 3 steps MacAdam